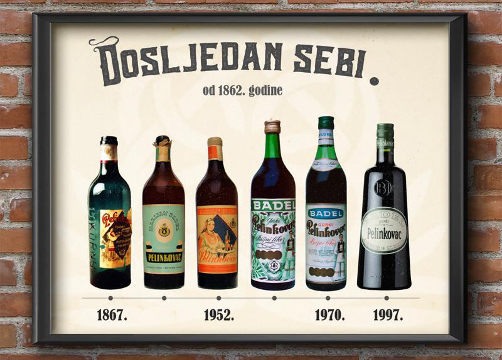 Producer:
Badel
Badel
Badel 1862 is the largets and oldest producer of wines and spirits in Croatia.
With the quality of our products we continue on and enrich our opulent tradition that was inherited from renowned companies such as Pokorny, Patria, Arko and Badel Vinoprodukt. We are a synonym for spirit drinks in Croatia and the wider region and with five wineries within our portfolio we interlace the entire wealth of wine regions in Croatia. In addition to our own production, we are exclusive distributors for world known producers of spirit drinks such as Tradall, Marie Brizard, Borco and Underberg. We want to be the leading company in the production of spirits and wines on the domestic and regional market. In accordance with our slogan "Drink less, but of the best!" , we have been with our consumers for over a century and a half , supporting them in the most important moments of their lives and nurturing a culture of pleasure in spirits and wines.
Sustainable development.
Badel 1862 is running its business on sustainable development principles. Environment protection is the precondition for the development of a society in general. In our development we also take into account the development of the social community and region we operate in, since BADEL 1862 recognised the corporate social responsibility as an instrument of positive changes in running business, all based on economic, social and ecological principles thus making a more forthright and fair relationship towards the social community one of the highest priorities. Certificates of quality By continuous investments in new production technologies, implementing quality management systems, health care and safety, organisational changes, systematic informing and employee education, significant results have been achieved in accomplishing continuous products and processes quality. which has been confirmed by the ISO 9001, ISO 14001 i HACCP certificates. Badel 1862 is recognised as brand that surpasses competitors and has been awarded the Superbrands status
BADEL 1862 d.d. wines, alcoholic beverages and soft drinks , Vlaška 116, 10 000 Zagreb, Croatia ,
http://www.badel1862.hr
Produkte
---