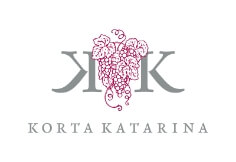 Producer:
Korta Katarina
Korta Katarina
After extensive research of grape varieties in Croatia, Lee & Penny Anderson decided to grow vineyards of the Plavac Mali variety. Plavac Mali is the most popular and economically most important red wine grape in Croatia. Plavac Mali is the result of a spontaneous crossing of two older varieties: Tribidrag and Dobričić. It has a long vegetation cycle, ripens very late and in order to reach full maturation needs an abundance of warmth and light. In 1961 Dingač was the very first superior quality wine in the former Yugoslavia to receive the designation of wine with a protected geographic origin. A few years later, in 1967, Postup was the second wine with a protected geographic designation of origin. Climatic conditions, superb coastal locations and stony, well drained hillsides are the perfect environment for the Plavac Mali grape and allow it to 'suffer' slightly on the vine. It is this 'suffering', combined with the abundance of olive trees, local fruits, flowers and wild herbs, that produce the beauty of Korta Katarina's Plavac Mali, Reuben's Private Reserve and Rosé wines. The results are full-bodied, deeply colored wines that taste of dried cherries, hints of raspberry and other earthy characteristics.
Selected grapes purchased from the vineyards in Čara on the island of Korčula, the birthplace of the great explorer Marco Polo, are used in the production of Pošip. Čara Valley is located in the heart of the island of Korčula, ideally located between two hills. It is protected from both strong southerly and northerly winds. The valley is open to the west and east, which is particularly important in the summer because of the direction of the sea breezes which daily ventilate the valley. Wines produced in the valley are fantastically balanced, with a more complex structure and a bit more alcohol than most white varieties, it provides medium to full-bodied wines.
All Korta Katarina wines have their own requirements in the process of winemaking. The time of fermentation, cold maceration and maturation in the wood are all carefully monitored. Of course, every year brings something different and there is always a willingness to adapt a certain natural factor in order to extract the maximum potential of the grapes. Great importance is given to the maturing in wood, where each of the Korta Katarina wines spends a certain period of time. Only the best quality French oak barrels for wine maturing are used. Careful selection and seasoning of wood and the light charring or 'toasting' of the finished barrel contribute to style of Korta Katarina wines.
Produkte
---